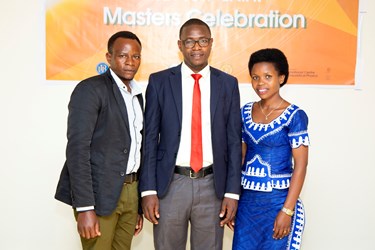 Call for Applications, Masters in Physics
The University of Rwanda (UR) through the ICTP East African Institute for Fundamental Research (EAIFR) is offering a two-year Masters programme in Physics. The application deadline is 15 September 2021.
27 Aug 2021
ICTP-EAIFR announces a call for applications for an MSc programme in physics at the University of Rwanda – College of Science and Technology. The two-year master's programme offers specialisations in High Energy Physics, Condensed Matter Physics, and Geophysics.
The quality of the masters courses will be at the same level as the Postgraduate courses given at the International Centre for Theoretical Physics (ICTP) in Trieste, Italy. In the first year, students take the same basic physics courses designed to bring them to an advanced level in preparation for the second year in which they specialise in one of the three areas mentioned above. Students who successfully complete their programmes will obtain MSc degrees from the University of Rwanda.
The mode of attendance includes fulltime course work (offered in modules) and a final thesis at the end of the second year.
Applicants should have a bachelor's degree with honours in Physics or Maths, with distinction. The selection of candidates will be based on their university record and on academic recommendations.
Funding
A limited number of scholarships are available for the top performing students.
The University fee structure is downloadable from the University of Rwanda's website.
Rwandan students are encouraged to apply to the Higher Education Council (HEC) for funding.
Key dates for this call
Opening of online application process:  16th August 2021
Closing of online application process: 15th September 2021
Selection process and admission process: 16th – 30th September 2021
Opening of registration process:  30th September 2021
Starting date of the programmes: 15th October 2021
Documents required for application
A cover letter which should contain the candidate's motivation to join the programme
Detailed curriculum vitae
Copies of academic certificates (notarized copies will be required before admission. For degrees acquired outside Rwanda, an equivalence from HEC will also be required. Admitted students can process this when they arrive in Rwanda. No student shall be allowed to graduate without submitting the same equivalence issued by HEC.)
Copies of academic transcripts (Original/notarized transcripts will be required before admission).
Two recommendation letters from academic referees who are knowledgeable about the applicant and their studies. 
Documents that give proof of the student's ability to follow advanced-level courses study and write scientific literature in the English language.
Copy of national identity card or passport.
Applicants from countries where English is not the language of instruction at higher education must provide an English Proficiency Certificate from a relevant body of institution.
How to Apply
Apply online at: https://e-applications.ictp.it/applicant/login/9013
For any additional information, clarifications, or inquiry, please contact:
Mrs. Jocelyne MUTAGANDA
Postgraduate Studies Officer
Tel: (+250) 788862609
jmutaganda@ur.ac.rw

Or
 
Ms. Sylvane NDAYIKUNDA
ICTP East African Institute for Fundamental Research
admissions@eaifr.org