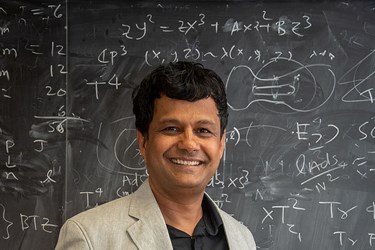 Science Bridging Day
15 Apr 2023
ICTP-EAIFR will be hosting a "Science Bridging Day" on the 20th April 2023 between 9 AM and 1 PM (Kigali Time) at UR-CST Campus to strengthen links with researchers in Europe as well as build interdisciplinary bridges with researchers at UR and Rwanda in general. There will be a colloquium talk by the Director of ICTP Trieste Italy, Prof. Atish DABHOLKAR, who is also ADG at UNESCO. This will be preceded by presentations of different opportunities open and available to researchers through ICTP Trieste. If you would like take your research up a notch, have more links for research collaboration, receive information on how to collaborate with ICTP Trieste (and EAIFR) to carry our cutting edge research related to your field, this is the program for you. The venue is the MUHAZI Lecture Hall of UR-CST Nyarugenge campus.
ICTP-EAIFR is not about physics alone but has a focus on Fundamental Research. After all, it is the East African Institute for FUNDAMENTAL RESEARCH. We welcome people from different areas of science and engineering for collaborative research with us where we can, together, apply fundamental principles to solve important problems. This involves not only research in physics but also research in its tool of mathematics and in the application of fundamental principles in areas such as climate change/modeling, chemistry, biology, and other fields. In fact, at ICTP Trieste Italy, from which EAIFR derives its model, there is research in Quantitative Life Sciences (QLS) and in Science, Technology and Innovation (STI) along with research in the traditional areas of Mathematics, Condensed Matter  and Statistical Physics, Earth Systems Physics, and High Energy Cosmology and Astroparticle Physics.


9:00 Welcome address,

Omololu Akin-Ojo (Director, EAIFR)

9:30 Research and Opportunities at the International Centre for Theoretical Physics (ICTP, Trieste),

Ralf Kaiser (ICTP)

10:00 EAIFR Physics Research in Society, (

EAIFR

Scientists)

10:30 Physics Without Frontiers,

Kate Shaw (ICTP)

11:00 Colloquium "Quantum Black Holes: Where Hawking meets Ramanujan",

Atish Dabholkar (Director, ICTP, and ADG, UNESCO)

12:00 Coffee and networking event
Registration: tinyurl.com/ICTPEAIFR
You can download the poster of the event here.