GEO@EAIFR Webinar Series 2022
Prof. Dr. Douwe J.J. van Hinsbergen, Chair in Global Tectonics and Paleogeography of the Department of Earth Sciences at Utrecht University will discuss the plate tectonic future of East Africa.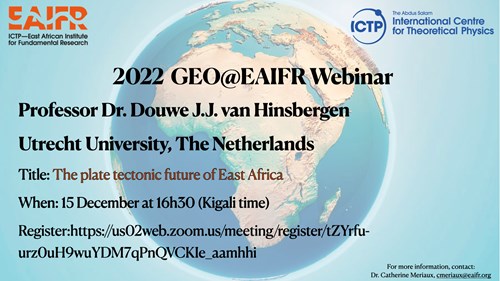 The East African Institute for Fundamental Research (EAIFR) and the International Centre for Theoretical Physics (ICTP) wish to inform those who may be interested of a GEO@EAIFR webinar. This seminar will take place on December 15, 2022 and will be broadcast live on ZOOM. It will also be recorded and later posted on the ICTP-EAIFR YouTube channel, where one can find the previous recorded GEO@EAIFR webinars. Below all the details:
Speaker: Professor Dr. Douwe J.J. van Hinsbergen, Department of Earth Sciences, Utrecht University, The Netherlands

Title: The plate tectonic future of East Africa

When: December 15, 2022 at 16:30 (Kigali time).
Register in advance for this meeting by clicking here.
All are very welcome.
Biography:
Douwe van Hinsbergen (PhD, Utrecht, 2004, currently Professor of Global Tectonics and Paleogeography in Utrecht) is a field geologist and paleomagnetist with a taste for orogenesis and plate tectonics. His research is focused on the kinematic reconstruction of plates and plate boundaries that must have existed in lithosphere that is lost to subduction from geological records of subduction-related orogens. He uses the resulting kinematic reconstructions on the one hand for analysis of mantle kinematic and dynamics, for instance through the development of the first comprehensive global catalogue of subducted slabs in the mantle and their geological interpretation, on www.Atlas-of-the-Underworld.org. On the other hand, he develops paleogeography tools to support research in paleoclimate, -biology, and -environment, for instance www.paleolatitude.org. He has an enthusiasm for developing online tools to support geoscientific research (e.g., www.paleolatitude.org), as well as public outreach. In the last year, too much of his time has been consumed by explaining the geology of pro-cycling races (www.geotdf.org, and @Geotdf on Twitter). He is currently hiding from the rest of the world in St. Andrews for a sabbatical. But don't tell anyone.
Abstract:
East Africa hosts two end-members of the Wilson Cycle: The East African Rift is a world-famous site of continental extension and associated basin formation and volcanism, with a profound influence on biodiversity, and is a natural laboratory for continental break-up. The late Precambrian Pan-African Orogen, on the other hand, is the end result of the closure of a (Mozambique) ocean. Much of what we understand of the rift stage of continental breakup, and the interpreted relationship with mantle plume-related magmatism is inspired by the geological study of East Africa. But in this talk, I will turn things around. Instead of focusing on the lessons that we may learn from the study of the East African Rift to understand how the modern ocean basins once opened, I will use the opening history of the modern ocean basins for a thought experiment to predict how the East African Rift will develop in the geological future, and what the geological history will be of the present-day Indian Ocean that will need to close by subduction to open an new East African Ocean.
To this end, I will introduce some 'rules' of geological evolution of rifts and oceans, and subduction zones and orogens: how will our present-day geology and geography develop in the future? I will discuss typical stratigraphic successions that develop during rifting, passive margin evolution, and subsequent collision that allow for straightforward navigation through orogenic belts. I will then explore possible locations where subduction zones may form in the Indian Ocean, and show how two different initial subduction zone configurations will lead to significantly different orogenic architectures and evolution. Finally, I will briefly discuss how the lessons learned from our thought experiment may help interpreting the geological past from present-day mountain belts, such as the Pan-African orogen.
We worked out this thought experiment in response to questions of journalists who asked whether we could predict the future. For them, we developed a short clip for public outreach, which can be found here.