GEO@EAIFR Webinar Series 2023
Dr. Abdelkrim Aoudia from the International Centre for Theoretical Physics in Trieste (Italy) will discuss active deformation and earthquake transients using case studies from plate boundaries in the Alpine-Himalayan region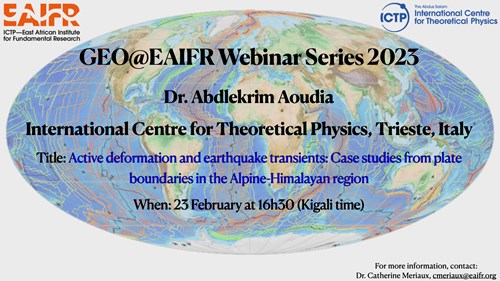 The East African Institute for Fundamental Research (EAIFR) and the International Centre for Theoretical Physics (ICTP) wish to inform those who may be interested of a GEO@EAIFR webinar. This seminar will take place on February 23, 2023 and will be broadcast live on ZOOM. It will also be recorded and later posted on the ICTP-EAIFR YouTube channel, where one can find the previous recorded GEO@EAIFR webinars. Below all the details:
Speaker:  Dr. Abdelkrim Aoudia, Senior Scientist Research and Coordinator of Solid-Earth Geophysics at the International Centre for Theoretical Physics in Trieste.

Title: Active deformation and earthquake transients: Case studies from plate boundaries in the Alpine-Himalayan region

When: February 23, 2023 at 16:30 (Kigali time).
Register in advance for this meeting by clicking here.
All are very welcome.
Biography:
Dr. Abdelkrim (Karim) Aoudia is a senior research scientist and coordinator of solid-Earth geophysics at the International Centre for Theoretical Physics in Trieste where he is also the co-leader of the Advancement Office.
Karim uses seismology, space geodesy, tectonics and numerical experiments to understand the following topics: Mechanics of earthquakes and faulting; Structure and rheology of the lithosphere in active earthquake and volcanic regions; active tectonics and earthquake hazard.
Abstract:
As the theme of this year seminar series revolves around "plate boundaries", I will focus on active continental plate boundaries and related earthquake sequences and show results from few case studies in the Alpine-Himalayan region. We have come a long way in monitoring active plate boundary regions. So, in this talk I will highlight the importance of seismology in active plate boundaries studies, with an appreciation for the value of gaining understanding of mechanical processes in regional geodynamics and fault mechanics, before integrating with GPS geodesy and recent geology. I will cover examples that span different faulting geometries, looking at their behaviors within a time span of interest to the society.